Wonder Woman 2017
The Movie. Finally! *queue WW theme song*
After years and years of waiting (not so patiently), we finally got a Wonder Woman movie, and it was magnificent.
I have waited for years for this to be real. Since my high school years when I fell in love with Wonder Woman and all her glory. Being a female SUPER HERO made her my personal hero and now I finally got to get a little dressed up and watch the movie!
I made my own Wonder Woman headband (tutorial in previous post) and I geared up as well as I could to go watch the movie. I also got to take photos with people and some very awesome kids who I told to believe that the best super hero of all time was – duh- Wonder Woman!
Now! To the actual movie, there is so much to say. To start off, I absolutely LOVED it for so many WONDERFUL reasons. Firstly, this stunning film was directed by a woman; Patty Jenkins, who did a phenomenal job making my dreams come true in watching a truly badass Wonder Woman film. Not only did she do the story justice, but she did Wonder Woman justice and she made a film which I think has made all of us as women proud!
The portrayal of women in this film gives me goose bumps as I write this. Having read comics upon comics of DC's Wonder Woman, I felt like I knew Amazon Warriors. I loved to read about the Amazon women of Themiscyra who are the epitome of health, strength and beauty. But OH-MY-GOD, seeing them in all of their glory was something I wasn't emotionally prepared for. Where the Amazon women gallop together towards their enemies was truly so powerful and beautiful to watch. It was definitely a favourite moment that gives me goose bumps even thinking about it!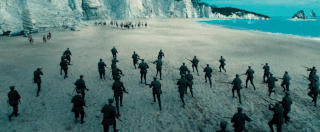 It's strange to think that I felt so emotionally connected to these characters but I did. I felt proud; watching the Amazons fearlessly thrust themselves in the face of danger, charging towards their enemies with such focus, agility and power. And watching Wonder Woman kick ass made my heart race. It was such a beautiful sight.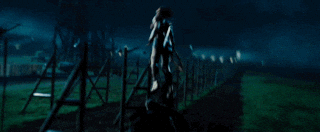 Gal Godot herself was every bit the Wonder Woman I ever wanted, needed! She earned her part as Wonder Woman, just as Diana earned her strength in the film. Every action scene had me on the edge of my seat, wanting to fight alongside her. Especially the scenes that would play her theme song in the background were absolutely fascinating to witness. Beaming, my heart racing, I watched in awe as Godot absolutely OWNED the screen. Battling with all that Wonder Woman is; Power, grace, poise, fearlessness, courage and WONDER. She was strong and beautiful and I believed it.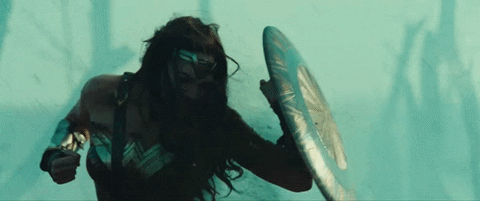 Chris Pine also needs some credit as his portrayal as Steve Trevor, a charming, quick witted and unbelievably human character. He was truly fantastic in his role and can I just say those eyes! *insert heart eyes emoji*
And you know what was a pleasant and welcome sight to see? When a woman saved a man for once. I'm okay with this. I encourage it. Chris Pine, I would save you too, don't worry. The quality of acting in this film had me by the throat. Laughing, crying and gaping in awe. I am so happy with this film.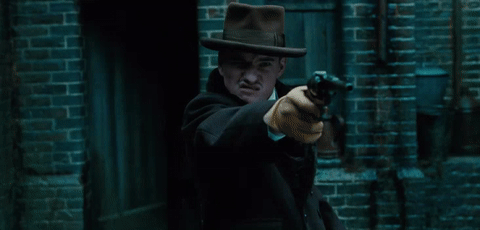 DC really set the bar high with this one, and I am so glad that we finally have a female dominant Super Hero film that doesn't suck (Sorry Elektra). I am so proud of this movie. Wonder Woman was a force to be reckoned with and I am very excited to see where it goes.
Justice League? I'm ready.
-Dee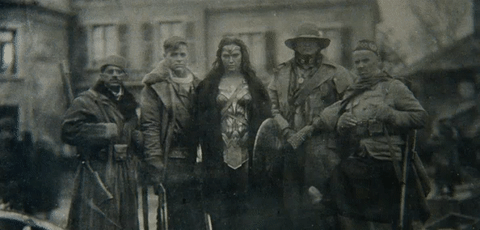 P.S, Here are some photos of me being Wonder Woman…. 😀
P.P.S I'm not even sorry about all the GIFs.
Banner from the interwebs Google search.
Illustration of Wonder Me, by me.
Photographs of Wonder Me, by various kind peeps at the cinema.